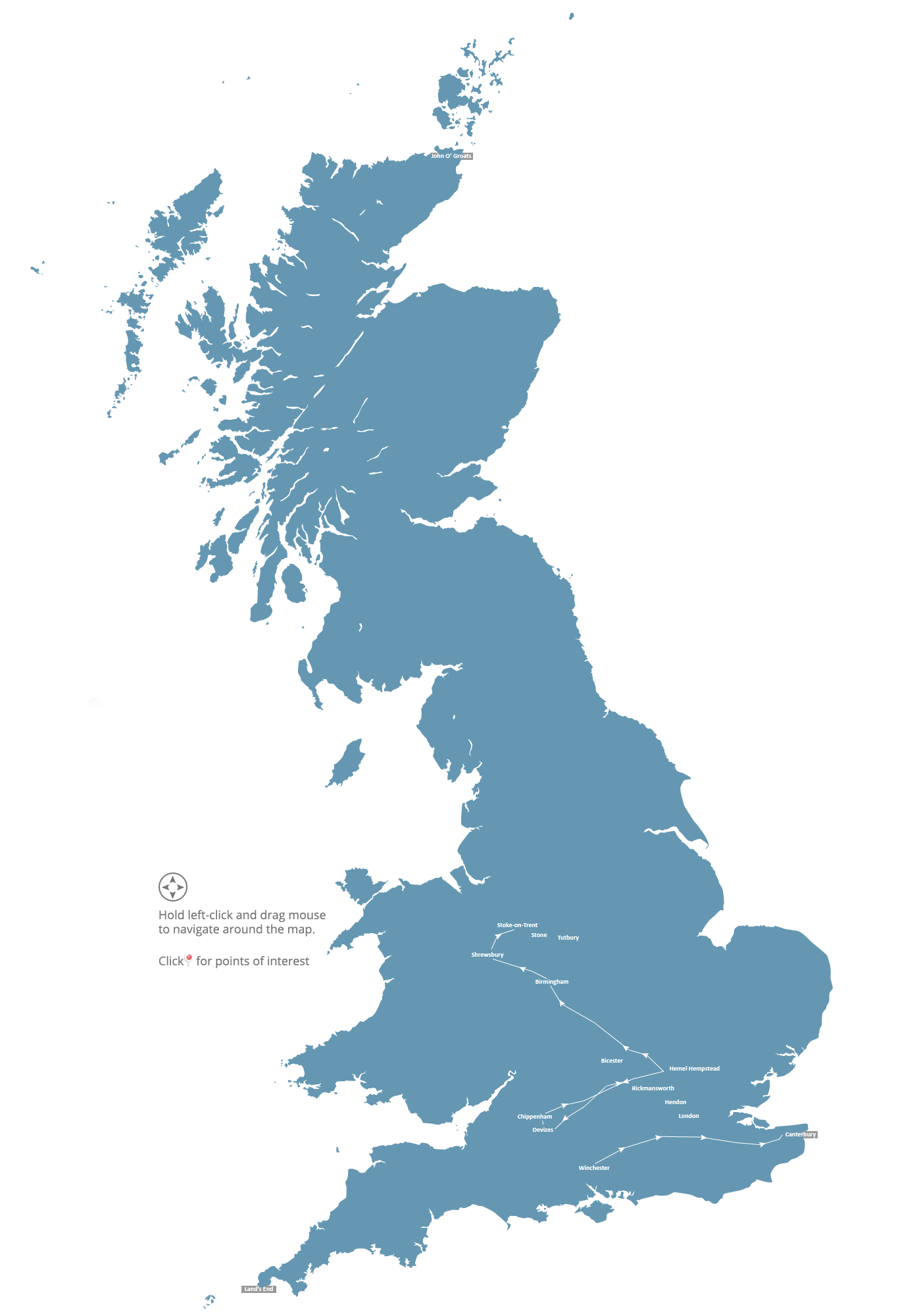 John O'Groats
It's a long way up here to John O'Groats from Land's End - roughly 840 miles. It's not known for definite if Tommy made the journey (see Land's End entry), but if he did, he might well have made the trip in 4 or 5 days!
Land's End
The start of the classic UK ride of Land's End to John O' Groats. According to a report in the Sentinel Newspaper, Tommy, wanting a bit of company, "started out at Land's End with another cyclist who was attempting to break the record to John O'Groats and followed him all the way!"
Stoke-on-Trent
Tommy was born in Stoke-on-Trent and had several family members and friends within the area. Tommy would use Stoke as a regular base, and the massive daily rides would often start or end here. Routes between Stoke and Tommy's other 'base' at Hemel Hempstead were frequently used.
Stone
During the terrible winter conditions of 1939, Tommy reportedly fell from his bike roughly 20 times on the relatively short stretch from Stone to Hanley (Stoke-on-Trent). In later years, Tommy would become a member of 'Stone Wheelers' Cycle Club.
Tutbury Castle
Sadly, Tommy died suddenly of a heart attack while returning home from a ride out to Tutbury Castle with friends. Tommy was 63 years old. It seems fitting that he should spend his last day on earth doing the activity that he loved the most - riding a bike.
Winchester
On 27th May, 1939, Tommy posed for a photo opportunity with new sponsors Raleigh, outside Winchester Cathedral. Nearly a year later, Tommy would again set out from Winchester on an exhibition ride to Canterbury.
Bicester
On one day of Tommy's record breaking 1939 ride, while riding in slow-moving traffic Tommy was struck by a car - with severe damage occuring to his rear wheel. Fortunately, Tommy was not injured himself.
Canterbury
Tommy seemed to visit Canterbury regularly. The city's landmark Cathedral was the destination of an exibition ride from Winchester Cathedral. Tommy rode the Pilgrim's way - a distance of 120 miles in just over 6 hours.
London
Tommy would ride into Trafalgar Square on October 26th as the new holder of the year record. During the one day off he would take during the whole of the challenge, he met with friends at the Prince of Wales pub in Covent Garden. Two months later Tommy would return to Trafalgar Square after completing an additional 12,000+ miles.
Hendon
Tommy would break the year-record at Hendon, just north of London. He passed Ossie Nicholson's previous record of 62,657 miles on October 26th - unbelieveably, there was a further 66 days of the year-long challenge remaining!
Rickmansworth
Tommy was a member of Rickmansworth Cycling Club, and could count on the support of his fellow members and friends within the area. Tommy would often use routes between Rickmansworth, Hemel Hempstead and the Potteries (Stoke-on-Trent) during the record attempt.
Hemel Hempstead
Tommy had his digs in Hemel Hempstead during 1939, and these became one of the unofficial headquarters of the challenge. Tommy regularly used routes between here and his other base in Stoke-on-Trent.
West Country
During the freezing start to 1939, Tommy headed to the West Country in search of roads less affected by snow and ice.
Scotland
It's unlikely that Tommy spent much time riding routes in Scotland - although there are reports that he may of rode from Land's End to John O'Groats during the 1939-40 period. However, the distance from his support network and the obvious hinderence of climbing in (or around) high mountains would make it an unfavoured option.
Wales
Although relatively close to Tommy's base in Staffordshire, it's unlikely that Tommy completed many routes in Wales - particularly within the mountainous areas of the country. There are also reports that Tommy cycled in Ireland to avoid war-time restrictions - but these have not been confirmed.
(Please note that routes detailed on the map above are for illustrative purposes only and do not necessarily follow the exact routes used.)
Routes
By the 14th May, 1940, Tommy had ridden 100,000 miles in 500 days. An obvious question arises; where did he ride to on all those incredibly long days in the saddle?
Tommy would vary his routes daily – most likely to take advantage of the weather conditions (and particularly the prevailing wind direction) – but also possibly to avoid the boredom of covering the same stretches over and over again.
However, it seems that Tommy did cover some routes much more often than others, but the exact details of each and every ride that Tommy completed during 1939-40 are not known. He kept a daily diary during the challenge but this detailed only the mileage numbers.
Tommy had 'bases' in Stoke-on-Trent and Hemel Hempstead where he would rest and recharge his batteries after the physical exhaustions of his daily rides. Routes that connected the bases in Stoke and Hemel Hempstead would have made sense for him to take. Indeed a report in April 1939 details Tommy riding from Hemel Hempstead to Devizes, onto Chippenham and then back to base at Hemel Hempstead. The next day he rode from Hemel Hempstead to Birmingham, Shrewsbury and on to Stoke.
It would have been unlikely that Tommy would have ventured into the more mountainous areas of the country. The hills and mountains of Wales and Scotland would have proven spectacular and inspiring scenery for Tommy to ride through, but would have decimated his daily averages.
But the occasional ride off the beaten tracks between the bases of Hemel Hempstead and Stoke would certainly have been made by Tommy.
According to a newspaper report made in April, 1939, Tommy wanting some company, started out at Land's End with another cyclist who was attempting to break the record to John O'Groats and followed him all the way! Whether Tommy did actually ride all the way to the top of the country is not known for sure.
| Location | Miles | Time |
| --- | --- | --- |
| Winchester Cathedral | 0 | 0:00 |
| New Alresford | 8.5 | 0:26 |
| Alton | 18.5 | 0:57 |
| Farnham | 27.5 | 1:23 |
| Chilworth | 39.5 | 2:01 |
| Dorking | 50 | 2:31 |
| Reigate | 56 | 2:48 |
| Redhill | 58 | 2:54 |
| Nutfield | 60 | 3:01 |
| Godstone | 63 | 3:10 |
| Westerham | 69.5 | 3:32 |
| Riverhead | 74 | 3:47 |
| Wrotham Heath | 83 | 4:13 |
| Aylesford | 90 | 4:30 |
| Charing | 105 | 5:22 |
| Canterbury Cathedral | 120 | 6:08 |
Claims that Tommy travelled to Ireland to avoid the wartime restrictions are also unconfirmed.
In 1940, with the year-record well and truly won, Tommy was still continuing to ride huge daily mileages in pursuit of the 100,000 mile record.
A documented example of a single day of the 100,000 mile challenge exists; on May 8th, 1940, Tommy chose to ride the Pilgrim's Way from Winchester Cathedral to Canterbury Cathedral.
The route and the times taken between points along it are detailed in the table opposite.
Ridden as an exhibition ride, the average speed of 20mph over the 120 mile route clearly shows the immense fitness level that Tommy had built up – and also helps to illustrate how it was possible for Tommy to record such massive totals within a single day's ride.
*Table reproduced with kind permission from Dave Barter. Original article found here.