Tommy Godwin Team Time Trial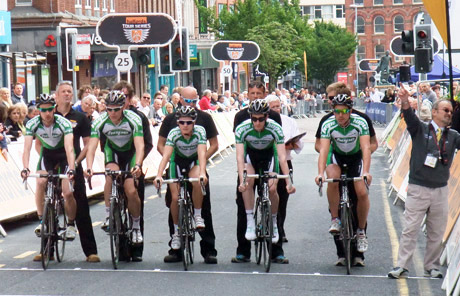 On the 14th June, 2012, Tommy Godwin's home town of Stoke-on-Trent played host to the Grand Final of the Halfords Tour Series. As a fitting memorial in the 100th anniversary year of Tommy's birth, the 'Tommy Godwin Team Time Trial' was held in his honour.
Due to an incident earlier in the day, the much anticipated start of the time trial was delayed; at first by 7 minutes, but then frustratingly a further five times until the action finally got under way at 3.42 pm.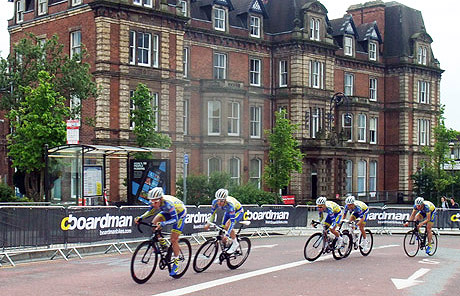 It was somewhat disappointing that during the delay, the opportunity to talk about the man whom the race was being held in honour of was not taken. Eventually, the announcer managed to say a few words about 'Stoke-on-Trent's most famous cycling son' – only to incorrectly state that Tommy was to be an ambassador for the London 2012 Olympic games!
After the admission of the dangers of using Wikipedia for research purposes, the announcer apologised for the case of mistaken identity and shortly after the racing was ready to commence. The inaugural team time trial would provide a great spectacle for visitors and locals alike. The short 1.2km circuit provided a great opportunity to get up close and personal with the pro riders along the narrow and twisting course.
Local legends present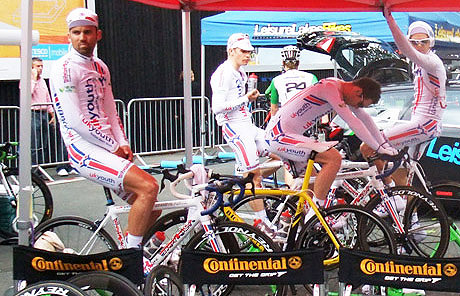 Several local cycling legends were present to watch the action, amongst them two-time Milk Race winner Les West, as well as members of Stone Wheelers Cycling Club and author of the Tommy Godwin book 'Unsurpassed', Godfrey Barlow.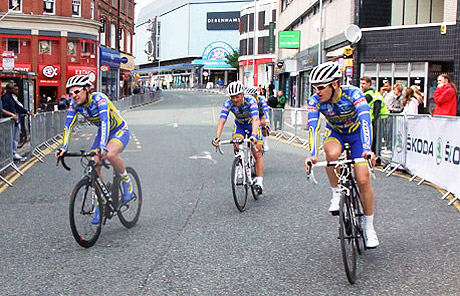 'Rapha Condor Sharp' rode out as eventual winners of the Team Time Trial, edging out second place team 'Team UK Youth' by just less than 4 tenths of a second!
Tommy Godwin's daughter, Barbara Ford, was present on the winners podium to congratulate the 'Rapha Condor Sharp' riders and hand over the Time Trial Trophy to the obvious delight of the winning team.