Useful Links: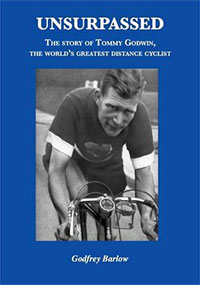 Further reading:
'Unsurpassed' by Godfrey Barlow is a great resource that tells Tommy's story in much finer detail.
Written by a fellow 'Stone-Wheelers' club member, it offers an insiders perspective on Tommy the man, and an in-depth history of both Tommy and the year-challenge.
You can buy the book by clicking on the book's image, or by clicking here.
All profits from the sale of the book will be donated to Roadpeace – so there's even more reason to get hold of a copy.
Tommy Godwin Memorial Video:
Websites:
» Phased (Tommy Godwin section)
» Stone Wheelers Cycling Club
» The Pedal Club
» The Definitive Guide to Safer Cycling
» Drivers and Cyclists road resources
» How to prevent your bike from being stolen